Despite the fact that the kind of lean, muscular young guys I seek as models are harder to find in Mexico, I have managed to find some models here in Puerto Vallarta.
In February last year I shot Camilo, who is from Colombia, and last month (January 2018) I shot Zach, who's from New York.
But no Mexican models!—Until now.
Over the past couple of months I'd been seeing this cute Mexican kid with really gorgeous eyes and a nice smile around the neighborhood. I thought he'd make a great model. But I didn't approach him. I figured sooner or later we'd end up being introduced to each other by mutual friends, and that's exactly what happened.
I was at Mr Flamingo's, the open-air corner bar a block from my home, with my friends Carlos and Lalo, and along came the cute kid, walking his dog. Turns out Carlos and Lalo knew him, so that's how I got introduced to Enrique.
I lost no time in letting him know I was interested in having him model for me. He took my card and seemed interested, but as we all know, that doesn't necessarily mean anything. So over the next few days I sent him a Facebook message or two, and got a 'hello how are you' response but nothing else. He didn't seem to be that interested. But again, the social network came to my aid in the person of my friend Daniel, who knew Enrique from the gym. Daniel helped me out by talking to Enrique and letting him know I was not a lech or a perv, that I was indeed a legitimate photographer and artist, and basically vouched for me. Soon after, Enrique contacted me.
We arranged to meet for an interview at my home and Enrique actually showed up! Another hurdle overcome. We talked and I showed him the contract and told him how things work, and we decided we could work together.
I'd been planning to do the shoot in my apartment, which is charming and Mexican and has an interior patio and lots of plants (I'd shot both Camilo and Zach there). But a mutual friend of Enrique's and mine named Alex stepped up at just the right time and offered to let me use his beautiful home (with private pool) for the photo shoot. I was happy to accept.
A few days later I caught a cab to the Marina, where Alex lives, about 20 minutes north of my home in the Zona Romantica. I'd only seen Alex's home in photos, but it was just as beautiful as I'd hoped.
What followed was a typical photo shoot in many ways. Like most of my models, Enrique was nervous because he hadn't done this before. I'm used to this and see it as part of my job to make the model feel at ease so he can be relaxed and spontaneous. I do that by alternating between teasing and giving him a hard time, and letting him know he's doing a great job. I'm good at this and as usual, it worked well, and Enrique relaxed more and more as we worked together.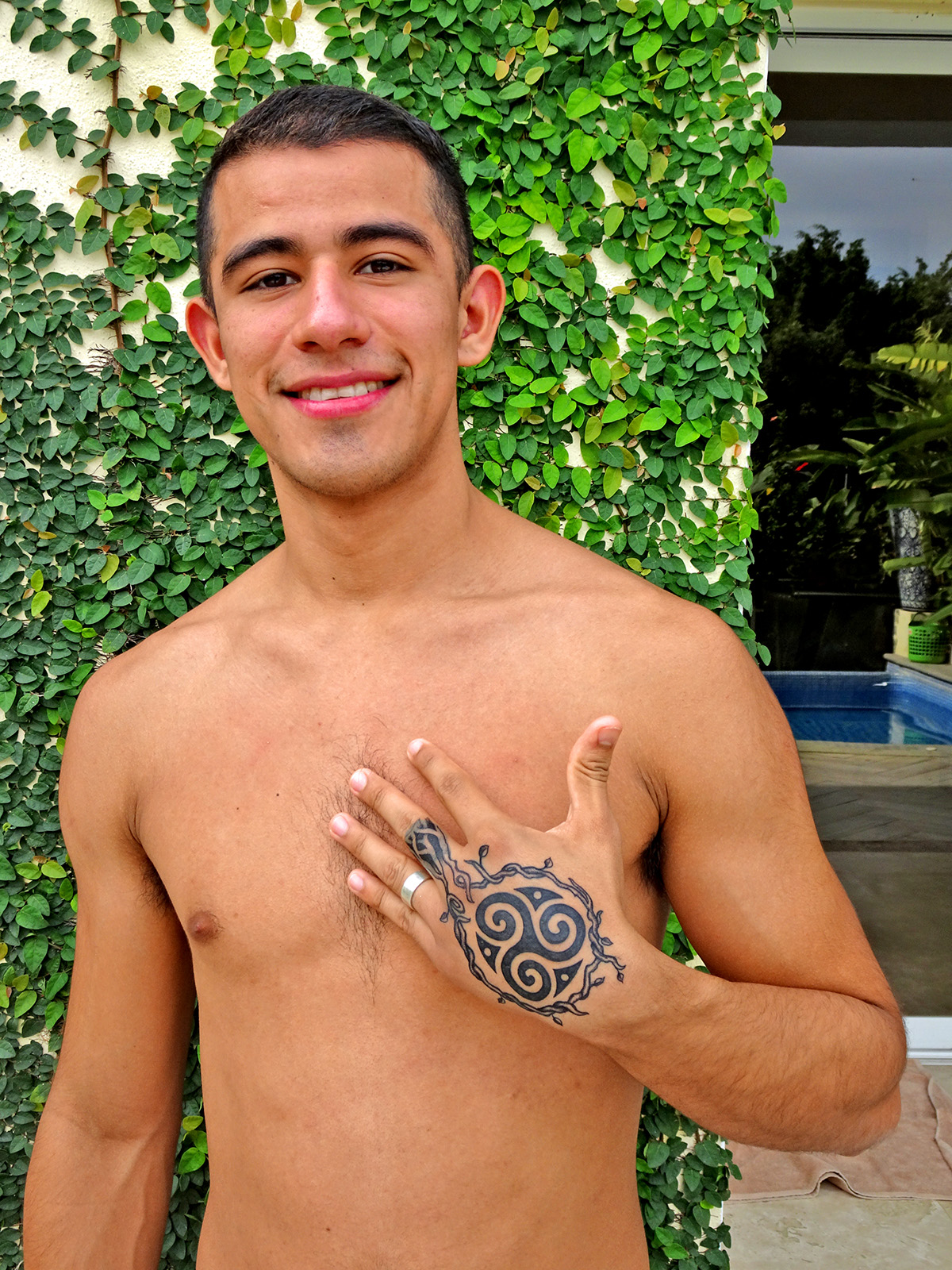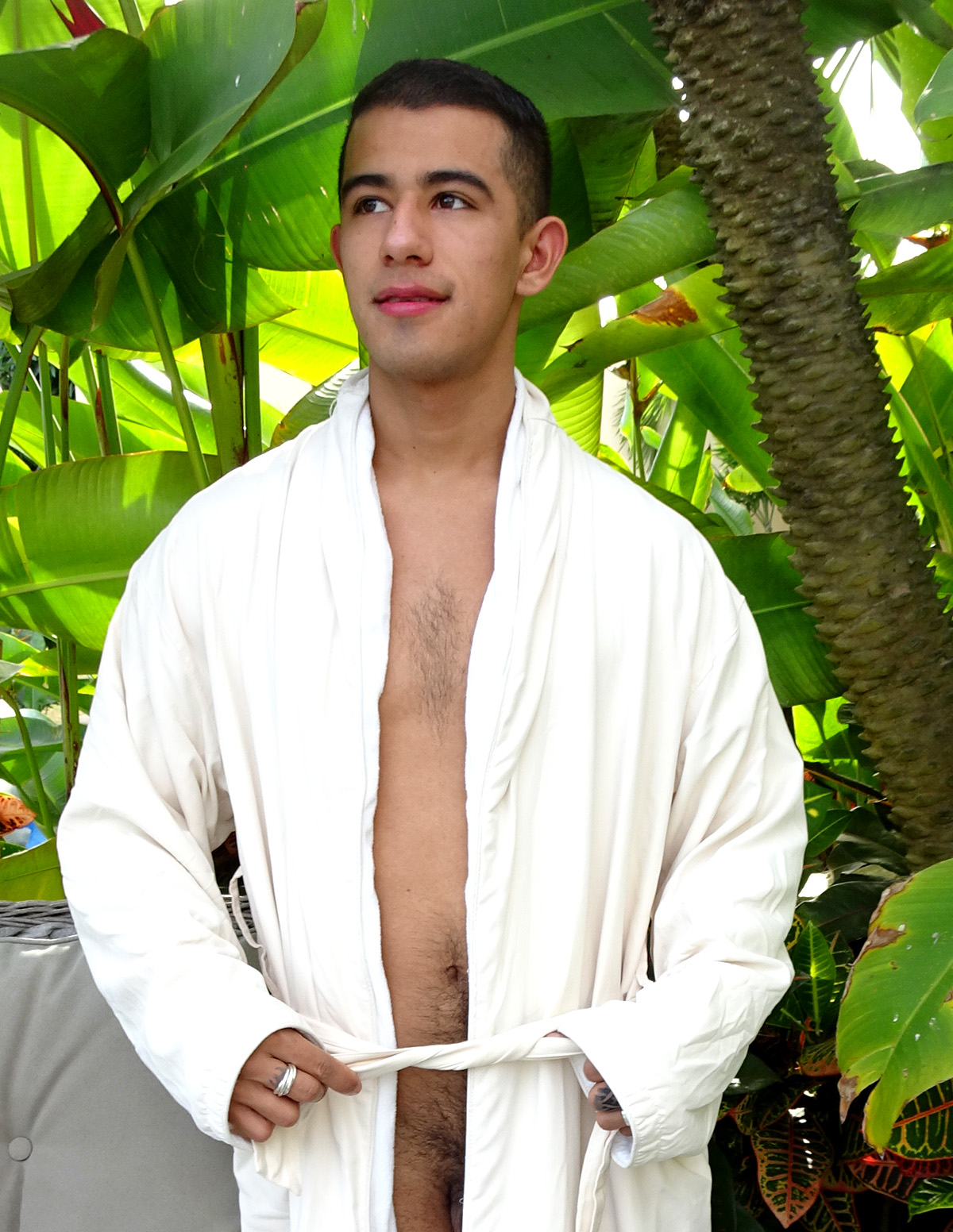 My photo shoots usually don't go over 2 and a half hours, but this one was very relaxed, since neither Alex nor Enrique had any time constraints. We took frequent breaks for coffee or snacks, which stretched the shoot to 4 hours. But it was nice to do a relaxed, no-pressure photo shoot, and I was less exhausted afterward than usual, even though I shot 1500 images in that time.
As enamored as I was of Enrique's looks, I was just as thrilled and excited by the backdrops made possible by shooting at Alex's home. Of course the pool was a great feature, but I was even more pleased by all the tropical plants surrounding it.
The house is part of a development where a long golf course has homes running down both sides of it, so just outside of the pool was a golf course. There were occasional golf carts going by, but often it was empty enough that Enrique and I could step outside and shoot nudes against the wall of big-leafed tropical plants which separated the pool from the golf course. These photos of Enrique among the beautiful plants are some of my favorites.
I also got lots of wonderful images of Enrique in the living room, in the kitchen, on the deck by the pool, and in and around the pool. It was a great session, Enrique did a great job, and I am very grateful to Alex for making it all possible. He even helped me out by taking some photographs of me working with Enrique.
Next step, of course, is beginning to create drawings, paintings and prints inspired by all these beautiful new images. It's great to have a hot new Mexican model, and I'm inspired and excited!
BULLETIN JUNE 22, 2018:
The Enrique e-book has just been published! With 148 pages and 145 photographs, it's a treasure trove of beautiful images. Click here for instant download and just minutes from now you can be enjoying Enrique in all his uncensored glory.